Welcome to Let's Eat Marbella
.
THERE IS NO EXCUSE for the vandalism and grafitti aimed at the owner of Olivias in La Cala de Mijas after the tragice death of their doorman , Jose Rafael Pisano Pardo, who  suffered serious injuries after he was knocked unconscious while attempting to stop an argument between customers. What caused the fight (which appeared to be between two local ex-pats) is still unknown, but I hardly think that blaming the owner Elliot Wright and branding him a murderer makes any sense.
THE ICONIC BUILDING CLOSED FOR YEARS, known as Aresbank is due to re-open as a restaurant/entertainment venue. Something I always said I'd love to do. Why it took so long I don't know. Can't wait.
IT'S THAT TIME AGAIN. MasterChef is back and I for one never cease to be amazed at the talent of some of the amateur "home cooks"that appear on the programme. It's only the first round and already I have picked a couple that I think will go far. It was good to see the food critic and writer William Sitwell appearing setting a task for the competitors. He is one of the few real critics as opposed to a lot of the wannabees. John Torode is as always on top form but how he puts up with that idiot Greg Wallace whose knowledge of food is limited to the words of, taste, spicy, sweet, peppery, bitter, etc. He really should have stuck to selling vegetables. I'm sure he's a really nice guy, but……..!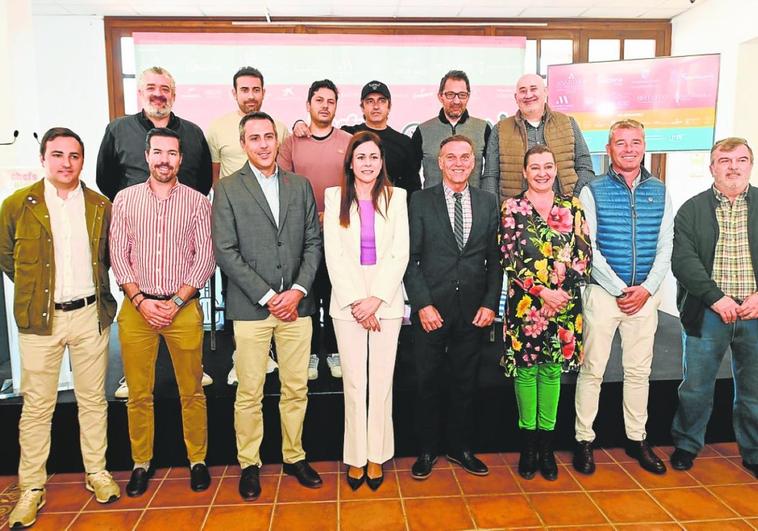 MORE MICHELIN STAR CHEFS than you can shake a stick at.
This month ChefsForChildren visited the Benahavis School of
Hospitality in Benahavís and there they presented the latest news from the solidarity gala.
The event was chaired by José Antonio Mena, mayor of Benahavís; and Esperanza González, from the Malaga Provincial Council and representing Sabor a Málaga.
No fewer than 47 chefs from Michelin-star restaurants around Spain are supporting this year's fifth edition of the Chefs for Children  philanthropic initiative.
Chefs José Carlos García, from José Carlos García Restaurant; Diego Gallegos, from Sollo; Fernando Villasclaras, from El Lago; Mauricio Giovanini, from Messina; Dani Carnero, from Kaleja; and Manuel Navarro, from the Anantara Villa Padierna hotel; Together with Marcos Granda, Skina's head waiter and sommelier, all participated in an educational meeting with the school's students
The fifth Chefs for Children initiative is being held on 24 April at the Anantara Villapadierna hotel in Benahavís
KEMPINSKI HOTEL BAHÍA MARKS ITS 24TH ANNIVERSARY THIS MARCH.
Where has the time gone? It doesn't seem that long ago when I saw them start building it.With spectacular views out over the Mediterranean sea, its unique beachfront setting and the hotel designed by probably the Coast's most famous architect, Melvin Villarroel . With its extensive gardens and uninterrupted views towards Africa, Gibraltar and the Málaga coastline, it soon gained a reputation as a paradise for both locals and international visitors alike. From welcoming royalty, heads of state, celebrities, musicians and film stars. As the first international-branded five-star hotel to open in the area, Kempinski Hotel Bahía has a relationship with the town of Estepona that has grown over the years.  A number of staff  are also celebrating their 24th work anniversary at the hotel as well.
During 2018, the hotel's key spaces, including the lobby and two restaurants, underwent an extensive refurbishment, creating a modern and inviting dining hub, El Paseo del Mar, which consists of Black Rose The Bar, Baltazár Bar & Grill and Spiler Beach Club, all of which are open to the public. Spiler Beach Club has recently become a popular destination for those looking to escape the crowds and enjoy a more sophisticated yet laid-back pace of life. Connected directly to the promenade which runs along the coast, the beach club has seen a surge in guests dropping in for a drink and a bite to eat whilst out walking or cycling along this enchanting path.
(some content courtesy of Planet Marbella)
FOR THE LAST THREE YEARS (Covid inspired)
Marbella Cooking Crew have been supplying in house catering from dinner parties to corporate lunches. How does it work? Contact them, explain what you want and when and they will find the right chef with the right product to cater for your occasion. The earlier you book the more chance of securing the date you require. (34) 629273765
TO ENABLE US TO KEEP SUPPLYING ITEMS OF INTEREST PLEASE GO TO OUR DONATE BUTTON. EACH 5€ GETS YOU FIVE TICKETS FOR PRIZES OF LUNCHES/DINNER FOR TWO, WINES AND MORE EVERY MONTH. THANK YOU.
Blog

Profiles

Restaurant guide

Food & Drink
Not normally my meal of the day, but I joined friends the other day for breakfast at the very...
Michel Bourdin, maître chef de cuisine of London's Connaught hotel for more than 25 years...
Not normally my meal of the day, but I joined friends the other day for breakfast at the very...
This really is a 'posh nosh' brekkie! MY SPECIAL BREAKFAST — EGGS BENEDICTINE ROYALE...
Not normally my meal of the day, but I joined friends the other day for breakfast at the very...
Michel Bourdin, maître chef de cuisine of London's Connaught hotel for more than 25 years...

Garry Waite
Thanks for arriving at my page. Whatever you put in to your search engine to land here, it must have something to do with food, wine, entertainment and of course Marbella. Why me? I hear you ask! Well, I have lived on… Read more
Donate
Just like several on line publications, we continue to supply information and I hope, articles of interest.
In order to keep our integrity and uncompromising reviews and interviews, support donations are most welcome.
Weekly/monthly, or as and when you wish and contribute whatever you feel our fledgling magazine is worth to you. For your security we only accept payments through PayPal or bank transfer Thank you.

Donate
You must have a Paypal account to leave a donation via this form. If you do not have one, you can also donate by bank transfer:
ES83 2103 0133 8100 3000 8517
Thank you!
Next Events Coming
No Events on The List at This Time